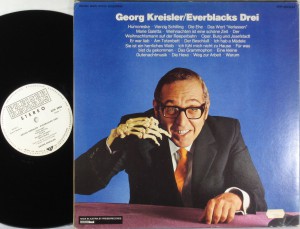 If things had worked out differently, Georg Kreisler might have written the bulk of his satricial songs in English. An Austrian Jew, Kreisler fled Vienna in 1938. He became a US citizen in 1943 and worked on movies with Charlie Chaplin after the war. But he couldn't find his audience. In 1947, he was rejected by the record labels, his songs  dubbed "un-American." Listen to this example and you'll see why his songs might have been a little over the top on the black humor side for a 1940s American audience:
In 1955, Kreisler returned to Europe where he spent three years in his native Vienna before moving to Munich. In the mid-70s, he moved to Berlin then Salzburg and Basel. Kreisler's songs are black humor and biting social commentary at their best. They are wonderfully wicked, hair-raisingly politically incorrect and sometimes downright bizarre. The titles of some of his most well-known songs include Tauben Vergiften Im Park (Poisoning Pigeons In The Park), Zwei Alte Tanten Tanzen Tango (Two Old Biddies Dance The Tango), Das Mädchen Mit Den Drei Blauen Augen (The Girl With The Three Blue Eyes) and Wir Sind Alle Terroris
ten (We Are All Terrorists).
For many cabarettists, music comes second. In general, it's not that important if they can actually sing. But Kreisler's golden bass baritone, which brilliantly contrasts the actual texts, is pleasant to listen to even if you don't speak German.
Below, I've translated a section of two of his songs: the dark and strange Als Der Zirkus Im Flammen Stand and Zu Leise Für Mich, which teeters between wistfulness and indifference. To give you a better feel for the cleverness of the language, I've translated both texts very loosely (i.e., more for meaning rather than literally word for word).
When the circus was burning down
When the circus burned to the ground
I calmly watched from far away
Oh my, oh my, oh what a day
When the circus was burning down
A lion was almost fried
It's mane caught fire, it almost died
But most the beasts jumped through the fire
Oh what a day, how very dire
When the circus was burning down
People screeched much louder than the monkeys
Fourteen tigers ran directly into town
Two giraffes were dangling from the wires
Twenty-eight children trampled down…..
Never have we seen such a wonder
Never have we laughed so hard and long
Our town most days is such a chore
Just your standards murders, what a bore
Until the circus was burning down……
More animals are burned to a crisp and a couple of murdered children are thrown into the mix later in the song – all very dark and surreal. To see the original German text, click here.
I've been so long in the cabaret, singing my songs
Like a bold but ageing soubrette
And the people keep on listening
And the flowers will bloom just as bright next spring
I smile and sing because intermission's coming
The people smile because they want to understand what I mean
Then the show is over, I go to the bar and toss them back
When back I'm home I think, still full of drink: nothing ever happens
But that's just life, my dear, it's true
You make your plans but then forget what you want to do
Someone somewhere is doing something, they shout their life out loud
But I can never hear it…..
Click here for the German text.