In my reading habits, I'm often polyamorous. Occasionally, a book is like a new, exclusive lover: I can't wait to start reading. I happily linger in bed for hours, sucked into the story and thrilled with each turn of the page.
But most of the time, I read several books at once, choosing whichever one fits my mood. Novels I always finish eventually, non-fiction and short shory collections I finish sometimes.
Here's what I'm chipping away at these days:
Der Zauberberg
I don't read enough fiction in German. The first couple of years I lived in Berlin, I hit up some Kästner, Böll and Hesse. I tried to read Grass' Die Blechtrommel, but my German wasn't good enough yet to have it not be a tiresome chore. So I got out of the habit, only reading non-fiction books, magazines and newspapers in German.
A couple of months ago, I decided it finally time for this to change. I picked up a copy of Kafka's Das Prozess, but unfortunately the print was too tiny for my middle-aged eyes, which reminds me, I need to find a copy with a print size I can handle. I probably wouldn't have picked Thomas Mann—even Germans complain about his rambling sentences, which can stretch across an entire page—but my husband recently read Buddenbrooks and loved it, so I thought I'd have a go at Der Zauberberg.
Would it be too much to say it is absolutely fucking amazing? No, it would not. Mann's writing is so clear, the images so vivid, the descriptions so precise without being stilted. I have encountered some of his marathon-length sentences, but I never got lost in them.
For our first wedding anniversary, my husband and I went to the Olema Inn for dinner, the place in Marin where we went with my family after getting hitched at the San Francisco Court House in 2007. After our meal, we shared a butterscotch dessert which was incredibly delcious, but also so intense, we could only eat it slowly, a fourth of a spoonful at a time. So far, I feel the same way about Der Zauberberg, which means it might take me over a year to finish its nearly one thousand pages. But every moment I spend on it will be a pleasure.
Americanah
I have to admit I'm not usually that crazy about ethnic fiction, but maybe I've chosen books in the past that were a little too heavy-handed for my taste. A friend of mine who sometimes does project work in Eithiopia recommended Americanah to me, so I thought I'd give it a try. It's the most recent addition to the list, and I've only read the first three chapters, but so far the book is a refreshing mix of clever, funny and touching, with well-drawn, believable characters. I also find the parts about life in Nigeria fascinating. If the book keeps it up, it will probably become an "exlusive lover" I devour in less than a week, placing the others to the side until I'm done with it.
Jane Eyre
In my "day job," I write articles for several websites on trending topics. I'm still free to choose my own topics to write about, which is good because at least 75 percent of all topics trending on google and twitter have to do with sports and celebrities. I can only really write about things I'm actually interested in, and I'm not interested in sports and celebrities. Actually, if I had to write articles about the birthday bash Gwen Stefani threw for one of her sons, a spat among the Kardashians or Mama June's weight loss I would fall in spiralling, deep black hole of depression. But there are still enough topics to write about that I actually find interesting, like space travel, quirky national holidays and the travesty known as Trump.
The Bronte sisters were also trending recently because of the PBS drama To Walk Invisible, so I got the chance to write this article, which I enjoyed. Although I've never read anything by Anne Bronte, I've already read both Jane Eyre and Wuthering Heights several times.
I'm working on a short story right now called Agnes 91061-R, which is a bit of a dystopian feminist sci-fi piece where Jane Eyre plays a role. Although I could just go through the book and pick out the stuff I need, writing the article recently put me more in the mood to read the whole thing. Unfortunately the new copy of Jane Eyre I bought recently is designed like this: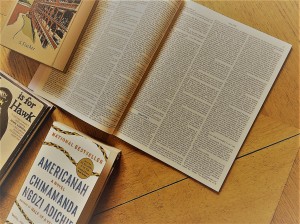 I thought it looked cool at first, and the book is nice and slim, but it's pretty damn hard to read. Like with Kafka, I may have to pick up a more readable copy soon, taking the stuff I need for the story out of it for now.
H is for Hawk
I picked up H is for Hawk at the bookstore in Point Reyes Station when I was in Cali last fall. Although the best time for a trip to Cali is in November-February, so you can escape Berlin's dark and dreary winter, I decided to go in October because I didn't want to be there later if Trump won in the end. My brother scoffed when I mentioned this to him. "You're crazy. He's not going to win," he said. If only he were right….
I also bought The Soul of an Octopus by Sy Montgomery which I absolutely loved and read non-stop on the plane back to Berlin, for the most part even forgoing my usual international flight movie binge. I've eaten octopus once since reading the book—a food I always loved—and it made me feel sad. I'm not sure if I can ever eat it again.
Anyway, I was excited to read H is for Hawk. I'd heard great things about the book and, according to the shamanic journey my mother once did on my behalf, red-tailed hawks are also my spirit animal (yes people, I am from California…)
However, the book has been a little hard going, but not because of the writing. The story is fascinating and the writing beautifully poetic, but the writer, Helen MacDonald is a little too much like the person I once was: overly emotional, self-critical and negative, a recluse, highly sensitive to a fault.
It's a little unfair on my part to judge her on this, because the book is also about her coming to terms with her father's death, but the person she is in the book reminds me so much of myself when I was in my teens and twenties, which I find unbearable at times.
I'm not that person anymore, and I haven't been for a long time. Why does reading about someone who is slightly irritating and sometimes even painful? I'm sure I'm not the only one who feels uncomfortable when a person reminds them of how they used to be in the past. I'll still definitely finish the book, though, and I know I'll always remember Mabel.
If anyone has any good reads to recommend, please feel free to drop me a line. I'm always on the look out for something new, especially the unexpected.