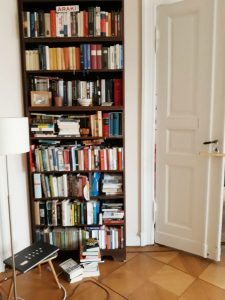 I've loved to read for as long as I can remember. When I was a kid, I locked myself in the bathroom on Saturdays with a stack of books and didn't leave until I'd finished all of them (luckily we had two bathrooms, or my sibling would have probably broken down the door.) Trips to the Nanini Library were something I got excited about. I spent many an hour in this cave in the Haunted Bookstore with a pile of pop-up books—I was pretty sure they were magic. Both of my daughters have inherited the reading bug, which is great. My older daugther has often asked me if I have a favorite book and I've always told her I don't have one. I've read great books, good books, mediocre books, and a handful of bad ones. But this past weekend, on the long drive from the Alps back to Berlin, I narrowed the list down to my 25 favorites and then some.
So here are my 25 favorite books, more or less in the order that I've read them.
Lincoln in the Bardo, George Saunders
I'd heard of George Saunders before I read LITB, but for some reason I assumed he was a chilly, upper middle class New England intellectual, which is certainly not the case. Good thing I got over my judgemental assumption (chilly, upper middle class New England intellectuals don't tend to be my favorite writers) because this book was like nothing I've ever written before: original, strange, experimental, exciting, and incredibly moving. It took a little while to get into the rhythm of the novel, but once I did, it absolutely floored me.
Civilwarland in Bad Repair, George Saunders
I've been going on a bit of a Saunders kick after LITB. I read The Tenth of December and liked it, although not as much as I thought I would. But I adored Civilwarland in Bad Repair. The stories in this collection are crueler, darker, and more speculative than the ones in The Tenth of December, and speculative fiction is definitely more my thing than straight up realism (not that Saunders ever does straight up realism). I've watched some interviews with Saunders on YouTube and I also like how down-to-earth and funny he is. A woman in my writing group put it best when she said, "George Saunders is this literary genius but then you hear him talk and he just seems like somebody's really nice dad."
Hard Rain Falling, Don Carpenter
I love the denseness of Carpenter's writing in this book. He made me become fascinated with the different kinds of billard games played in a poolhall, which is quite a feat. The main character for most of the book, Jack Levitt, is a hoodlum, little more than an animal really. But when you find out why he's this way you start to feel for him. The prison scenes are great: intimate, desperate, and moving. I read a negative review of the book on Goodreads where the reviewer said the book was way too much of downer, with no redemption in the end, but I don't agree. True, there was no "real" redemption, but by the end of the book Levitt is a person. Not a great person, and definitely a failure, but someone who also experienced fleeting moments of love.
The Handmaid's Tale, Margaret Atwood
This book actually belongs much further down the list, because I read it the first time at around 19. But, like a lot of people, I reread it last year and it was amazing not to mention absolutely terrifying. I reminded me why Atwood was one of my favorite writers in my early 20s. Plan to read more of her books I've missed out on over the years soon.
The Fortress of Solitude, Jonathan Lethem
As I wrote in this post, Jonathan Lethem played a small but at the time significant role in my life in a way that was not connected to his writing and entirely one-sided in that he doesn't know who I am. Or maybe he does. I did send him a copy of With Love from a Berkeley Girl, the unedited 12-page version, but I never heard back from him. I would be lying if I said I wasn't a little disappointed he never responded but hey, I'm sure the guy gets sent stuff all the time. I'm also a big enough of a girl to realize just because the story meant something to me, it doesn't mean it would mean anything to him. Anyway, to get back to Lethem the writer, I've read several of his books since writing WLFABG and I liked all of them. Lethem is an incredibly inventive writer, but The Fortress of Solitude was definitely my favorite among what I've read. What I liked best about the book was the complicated, somewhat sexually charged relationship between the two boys and the magic ring that allows the wearer to fly. Without these elements, the book would have still been good, but they're what made it great.
Angle of Repose, Wallace Stegner
My husband is reading another Wallace Stegner book right now, and it seems the guy really had a chip on his shoulder about hippies. That's what I liked least about Angle of Repose: the grumpy, disabled old guy complaining about the flaky younger generation. I need to make sure I don't someday start doing that about millenials. But the rest of the book—the family drama, the westward expansion—was so beautifully written and tragic. Definitely a book that belongs on this list.
The Road, Cormac McCarthy
It doesn't seem possible that a book can be despairing but tender, nightmarishly hopeless and yet full of love. But The Road definitely is. Loved it.
Everything is Illuminated, Jonathan Safran Foer
I have to admit I find it hard to place this one on the list, not because I didn't love the book at the time (I did), but because Foer seems so pompous, strangely obtuse and nauseatingly full of himself. Do I need to like an author to like their writing? I don't think I do. But if I personally dislike them, however unfair it might be (after all, I don't know the guy), it does color my feelings about their work. But I devoured this book when I read it, and wept in certain sections, although I should mention I was recently single and living in a tiny studio with two psychotic parrots, so weeping was something I did plenty of at the time. EII also reminded me of my own family story, though it took place in Russia's Volga region and the Crimea, not Ukraine. My German-Russian ancestors weren't treated quite as badly as the Jews, but there were pogroms galore, mass shootings in the woods, exile to Siberia and Kakakhstan, the works.
Crime and Punishment, Fyodor Dostoyevsky
The original Hard Rain Falling and my favorite Dostoyevsky.
The Deptford Trilogy, Robertson Davies
I went through a huge Davies phase in my early 30s. Not all of his books are as good as the others—Davies had the tendency to lecture on some topic for pages in a way that distracted from the story—but I personally prefers novelists with a flaw or two in their writing rather than those who are always so very neat and clean. The Deptford Trilogy is his most exciting and intense set of books, although What's Bred in the Bone is also one of my favorites.
The Neverending Story, Michael Ende
This book belongs much further down the list because my mother read it to me for the first time in around '82 and I read it in English several times after that. But it was the first book I ever read in German, circa 2001, so I'm placing it here. You can read a little more about what the book means to me in this post.
Possession, A.S. Byatt
All the books I've listed until now are ones I read in Berlin, but I read Possession when I still lived in California. It's a literary detective novel full of twists and a heaping dose of adultery. Definitely something I should reread at some point. I'm curious if I'd be as into it now as I was then.
Advanced copy reader about an Italian village during the black plague
When I worked at Waldenbooks, publishers would sometimes send us advanced copies of books in the hopes that we would read them and suggest them to customers I guess. One of the advanced readers they sent us was a novel about an Italian village in the Middle Ages where everyone dies of the black plague except one woman and a small boy. The book was so exquisitely written and the characters so alive and I remember thinking this book is really going to take off, a literary tour de force, a prize winner. That's how much I loved it. But I was wrong. The publisher never sent us any copies to sell. I'm not sure anyone read it all. I lost the advanced copy years ago and can't remember the title or the author's name, although I do remember it was a man (Michael something?) I've tried to dig it up over the years, but in vain. If this book sounds familiar to you, please let me know!
UPDATE: My sister still has the advanced reader copy (as you'll read here, we worked together at Waldenbooks). The book is called Simple Prayers by Michael Golding. The book was translated into nine different languages, so I guess it must have made something of a splash after all. Will reread sometime soon to see if I still like it as much as I did then.
Frankenstein, Mary Shelley
Dracula, Bram Stoker
When I was in my late teens, I decided to do a monster double feature by reading Dracula and Frankenstein back to back. I was surprised how fucking good they are. Definitely will read them again in the future.
Jane Eyre, Charlotte Bronte
Wuthering Heights, Emily Bronte
When I was a sophomore in high school and my sister was a senior, we had an English teacher who took a shine to us. Her name was Ms. Hansen and she called us the Bronte sisters, comparing my sister to Charlotte and me to Emily, poor Anne left out as usual. Ms. Hansen gave me an award for excellence in English which was presented at a school assembly. I was a solid underachiever in high school, with Ds and an occassional F in math and P.E., Bs and Cs in everything else, except for an occassional A in English; definitely not the kind of kid who ever won any awards. When they called my name, I was too shocked to stand up at first. Ms. Hansen retired in 1992, the year I graduated from high school. About a year later, I ran into her at a reading at Black Oak Books in Berkeley. When she saw me across the room, she smiled and nodded, her old reluctant prodigy, at a book reading in Berkeley nonetheless. But I completely ignored her. When I looked at her later, she was on the verge of tears. Why did it upset her so much that I had snubbed her? Did it make her feel like her teaching had never made a difference? Was she reminded Castro Valley was a dowdy, Ayn Rand town whose school administration gladly axed the humanties in favor of computer skills? I'll never know. But I regretted my action both then and now. So why did I do it? Sure, I was morbidly shy at the time, but I don't think that was really the reason. I think I just wasn't used to adults paying any attention to me; part of me liked it, of course, but it also made me feel uncomfortable. My parents aren't bad people, but they were both incredibly self-absorbed when I was growing up, more like slightly older kids than actual parents doing that parenting thing, whatever that is. But it wasn't all bad: I had a lot of freedom. I could bring home any pet I wanted and my dad would build a cage for it, although my mom did put down her foot about the goat (sorry Bleaty!) When I got interested in poetry, I wrote quotes and original work all over my walls and mattress and no one said a word. But absolute freedom is a hair's breadth away from complete indifference. Most of the time, I felt invisible: Watch Rebeccah as she performs wonderous acts of dazzling imagination, except you can't because no one ever sees her! But Ms. Hansen did. And I dissed her. Ms. Hansen died in 2003 at the age of 76, so it's too late to tell her in this life that I appreciated her kindness. But I'll still write something here:
Dear Ms. Hansen, Thank you for introducing me the Bronte sisters, who I love, and thank you for seeing and encouraging me at a time when no one else did. I'm sorry I couldn't tell you what you did mattered and I'm sorry I hurt you all those years ago in long gone Black Oak Books. It just scared me at the time, that's all.
Alice in Wonderland, Lewis Carroll
When I was 16, I was pretty sure Carroll had write Alice in Wonderland for me and me alone. Who knows, maybe he did? 😉
The Happy Prince and Other Tales, Oscar Wilde
I need to reread these, because I don't know why I loved them so much, but I did. I even owned various copies with different illustrations. Maybe they wouldn't have the same meaning anymore, or maybe they would.
Til We Have Faces, C.S. Lewis
The Great Divorce, C.S. Lewis
If you grow up in a Christian household, there's a good chance you'll have some C.S. Lewis laying around, or at least it was like that in the 80s and 90s. My father loved both of these books, and I did too. Til We Have Faces is a reworking of the Psyche and Cupid myth and the Great Divorce is a dream vision of heaven and hell. I really should reread these books to see if I still like them now that I'm a vaguely spirtual agnostic.
Grimms' Fairy Tales
Hans Christian Andersen's Fairy Tales
By now, you've probably figured out I had (have) a jones for fairy tales. I also love the Greek myths and discovered a lot the Hindu stories when my daughters were little. They used to love watching both of these cartoons. Creepy, yes, but probably more interesting than Disney. 😉
The Narnia Chronicles, C.S. Lewis
Truly great children's stories and a big part of my childhood.
The Velveteen Rabbit, Margery Williams
So sad, so bittersweet, so good.
A few books that almost made the cut:
Kafka on the Shore, Haruki Murakami
Like I wrote here, I loved Murakami and am so glad I finally read him last year. I have the feeling one of his books will end up on the all-time favorites list, but just not this one.
The Secret History, Donna Tarrt
I read this one in a frenzy in my early 20s, and it's a great literary thriller, but somehow not great enough to make the cut.
The Rime of the Ancient Mariner, Samuel Taylor Coleridge
I was completely obsessed with The Rime of the Ancient Mariner when I was 15, but I think a big part of it was that I had a hard bound copy with illustrations by Gustav Dore. I also inherited a copy of the Tales of Edgar Allan Poe with particularly gruesome Dore illustrations. I used to press flowers in this book when I was a kid, and somehow I love that I did. Next time I'm in Cali I need to dig it up (perfect phrasal verb for Poe!) at my mom's place and bring it to Berlin.