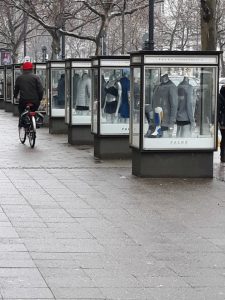 An old expat friend of mine had this theory that the part of Berlin you first move to is where you eventually return if the city becomes your permanent home, not just a year-or-two passing through until you go back to where you come from or, if you're a millenial, move on to Barcelona or Lima or Koh Tao or wherever your little digital nomad heart takes you. (Sometimes I envy the selbstverständlich free roaming spirit of millenials, but that's probably just me being your run-of-the-mill angsty GenXer).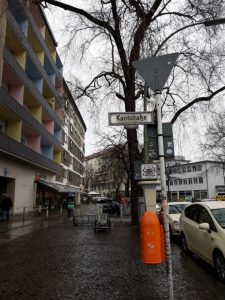 I'd say her theory works somewhat in practice, at least when it comes to East and West. I started in West Berlin and hung out in Prenzlauer Berg back when it was the cool place in the city, not the bourgeois wet dream it's become. But I would have never moved there and now I barely ever venture across the former border. If I ever leave Kreuzberg or Neukölln—and I almost never do because, in our hearts, all Berliners are living in their own self-made small town—I always go deeper west, to neighborhoods like Schöneberg and Charlottenburg.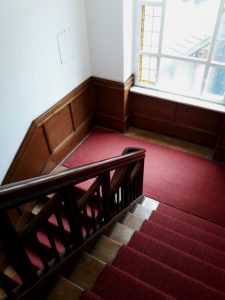 Ach, Charlottenburg, how I love thee. The neighborhood has the patina of old school West Berlin glamour, the staircases made of marble or mahogany like this one, with traditional red hemp carpeting fitted on the stairs. Poshness aside, the rent in Charlottenburg is now actually lower than where I live in Kreuzberg 61, which is one of Berlin's trendy urban family epicenters. To be honest, I'm getting tired of the area. I mean, really, how many organic grocery stores and specialty wine shops can one neighborhood have before someone says enough is enough? If it were up to me, I'd say, Charlottenburg here we come!
But who am I kidding? Our place is big and rent controlled. We're never moving.
But luckily I can still traipse off to Charlottenburg every once in a while. When I do, I head for Kant Straße, Berlin's miniature Chinatown, where I feast on Wantans in Chiliöl at Lon Men's Noodle House. Or I take a stroll down Mommsenstrasse, Schloßstraße, Knesebeckstraße, Goethestraße, heck, even Ku'damm.
Charlottenburg, mi amor.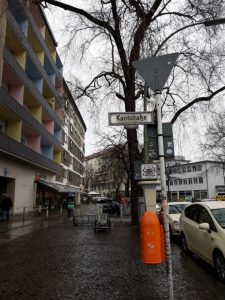 Forget the expat theory, loving Charlottenburg is very native Berliner of me. Berliners tend to stay in the neighborhoods they grow up in. If they do leave, it's usually only one district over.
If they're from the former West, they stay in the former West. If they grew up in the South, they don't move to the North. To this day, I've never once met a native Berliner who moved clear across town. Maybe such people do exist, but they're definitely rare.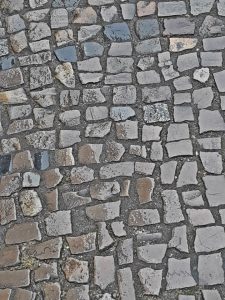 My first husband grew up in Kladow, i.e. the total burbs on the southern-most tip of Spandau. But he was born in Charlottenburg, lived there until he was five, and went to high school in the neighborhood. Charlottenburg was his and it was where we hung out for days on end when I first came to visit him in 1995.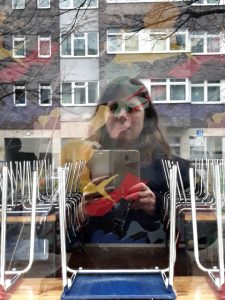 I remember hanging out in Kant Cafe with my now ex-husband, then-European boyfriend, while we sipped lattes in one of those old school white Milchkaffeeschalen. I remember thinking: I'm twenty-one and I'm in a cafe in Berlin with my arty boyfriend and he's an uncircumsized European in a black turtle neck and tortoise shell glasses. Oh my God, pinch me now!  Little did I know I'd move to the city four years later. I'd get married, split up, fall in love, split up again, then meet my now-husband, settle down, and start a family.
And the seeds of it all started in Charlottenburg.
Charlottenburg, ich hab' dich gern. 😉
p.s. Sadly, Kant Cafe closed last year, but I took the pic above there and another cafe is opening up, with the same color block painting on the wall from all those years ago. I'll definitely head there the next time I trek out west.