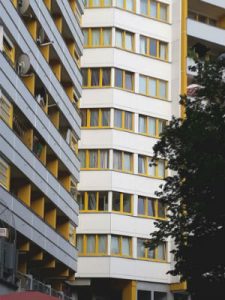 It's funny how so much of my life has been defined by streets I eventually grew out of. The first one was Telegraph Avenue in Berkeley, which I wrote about here. In a nutshell, I'm about twenty years too old for Telegraph Avenue, and a lot of it has been taken over by chains anyway. I still think Moe's is one of the best used bookstores ever, but Cody's is long gone.  I also doubt very much I could stomach a slice of pizza from either Blondie's or Fat Slice.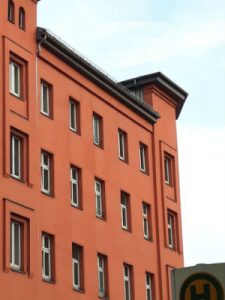 Another street that once meant the world to me was Oranianstrasse here in Berlin. Me and my pals hung out on O-Strasse all the time, picking up some grub after teaching our ESL classes at the Technical Unversity and partying every Sunday at Cafe Fatale, for some gay and lesbian ballroom dancing.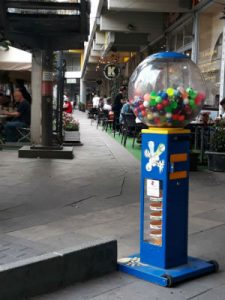 None of us actually lived on O-Strasse, or anywhere else in Kreuzberg. Even back then, Kreuzberg was too pricey for part-time ESL teachers/full-time bohemians. Me and most of my friends lived in Neukölln, which was the opposite of  cool at that time (now it's big time hipsterville). Back in the day, you could get big apartments in Neukölln for next to nothing because no one wanted to live there. I always thought Neukölln had it's own special vibe, but the main reason I lived there was because it was close to Kreuzberg.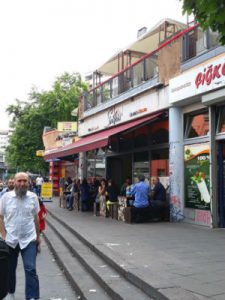 Once I finally "settled down", I moved to Kreuzberg after all, but not to the So36 district where Oranienstrasse is. I moved to Kreuzberg 61, Bergmannkiez, home to hip urban family enclaves. Kreuzberg 61 is the Noe Valley and Park Slope of Berlin, although not as ridiculously steeped in wealth as either of those places (I hope to god it never is…)
Still, I weaned myself slowly off of SO36. When I was pregnant with my first daughter, my gynecologist was in Adalbertstraße, a block up from Oranienstraße. If I had one of my many appointments in the morning, I always ate breakfast at Simitdchi, the Turkish bakery at Kottbusser Tor pictured above.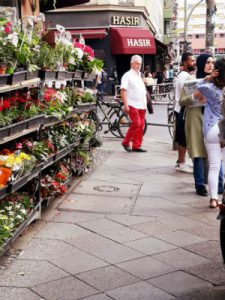 But once I had kids, I wasn't usually in the mood for the hectic buzz of Oranienstrasse and the rest of SO36. I started hanging out there less and less. Now I go there at most once or twice a year, even though it's only a ten minute bike ride away.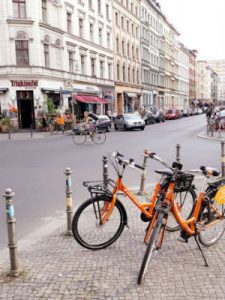 Yesterday I dropped my older daughter off for a sleepover in the neighborhood. I wandered Oranienstrasse and Adalbertstraße, my old stomping grounds.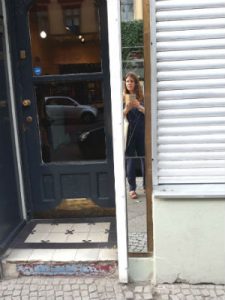 I'm not usually one who gets carried away with nostalgia. The older you get, the greater the danger you'll start living in a sentimental "those were the good old days" state of mind. I prefer to live in the here and now as much as I can.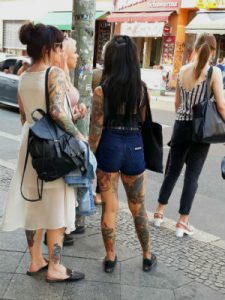 That said, I do sometimes find it hard to understand why so many young people are turning themselves into living sketch books. In general, I like tattoos, but I still think you can definitely overdo it, as so many millennials are doing these days. How many hours did these girls sit in tattoo parlor chairs? How many thousands of euros did they spend? In the end, of course, it's none of my business.
That's one thing I find hard about becoming middle-aged: the awareness that you are now on the outside looking in, and that this feeling will only get stronger. The only thing you can do is remind yourself of this and try to keep an open mind. If you can manage that, and it's harder than it sounds, life will still have surprises in store for you.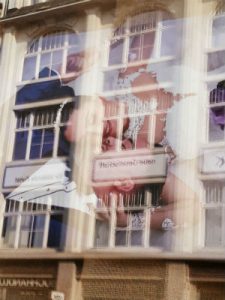 Anyway, I really enjoyed my jaunt down Oranienstrasse yesterday. Except for the Voo Store and one start-up culture-style cafe (so pissed tech culture finally managed to follow me to Berlin) the street hasn't changed one bit, at least not on the surface.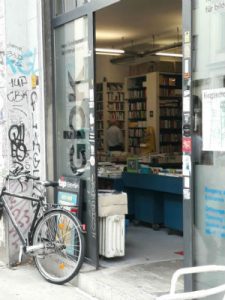 It's still home to four bookstores, two selling new books, one selling used books, and one specializing in comic books.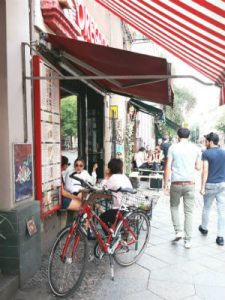 Oregano, the wok pizza place is still there….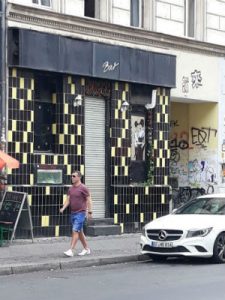 as is Roses, a gay boy bar with plush pink walls and plenty of old school Berlin snarky attitude to go around.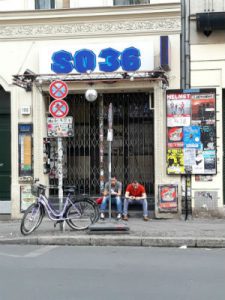 And, of course, my beloved SO36, the club where I hung with my expat lesbian posse, the token straight girl in the bunch. They even made me an honorary lesbian license: Rebeccah Dean does not (yet) sleep with women, but she's still one of us. At the time, I assumed I might fall in love with a woman someday and that would be that—a lot of my lesbian friends had been hurt by bi-curious women who tried things out just for kicks and later changed their minds, so I wasn't going to just experiment.  But no love ever came, or even any serious kind of attraction. For better or for worse, I guess I'm just into men.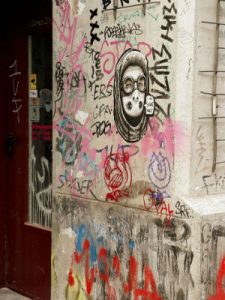 When I was on Oranienstrasse, I felt nostalgic in spite of myself, like I was visiting an old friend who was still living a punk lifestyle, their mohawk streaked with gray, their black eyeliner seeping into their crow's feet, a friend I had secretly judged although I felt bad about it.
When will they finally grow up, I'd think in my less generous moments, which is rich coming from me considering I'm the queen of never really growing up.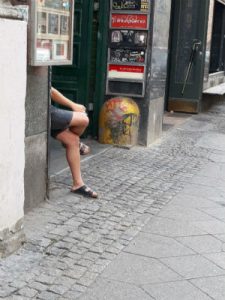 All I've ever really wanted to do in life is never stop playing. That's what writing is to me. And performing. Even motherhood is, in some ways, a form of never ending improv.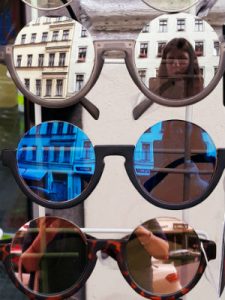 Anyway, Oranienstrasse, my punky old friend, I'm sorry I ever judged you. It ends up I still love you after all these years.
I hope you feel the same.
XOXO
Rebeccah