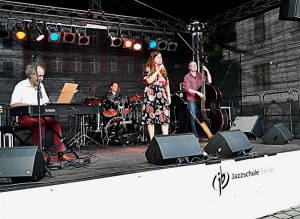 I performed three songs at Bergmannstrassenfest at the beginning of July. This is the third year in the row that I've performed there, but last year it rained (summer in Berlin can equal a bummer in Berlin, though not this year so far, hoorah!) and the year before Germany played a game in the European Cup literally five minutes before I went on, so almost no one was there. Speaking of soccer and being bummed, I was really disappointed to see Belgium kicked out of the World Cup last night. They played with such passion and were my favorite team this time around. Plus, France has already won before and were in the final with Italy the year my daughter was conceived (a total World Cup baby, thanks Zizou and Henry (who's still looking hot and at the side of Belgium these days)!) Wouldn't it be better if a team won that never won before? My husband told me that's a "woman's way" of looking at sports, in other words the "right" way of looking at sports, duh. He'd be completely in the dog house if he hadn't also been rooting for Belgium last night. If Croatia wins tonight, they'll be my team, otherwise it's Allez les Bleus (although Harry Kane is also kind of adorable. When in doubt, root for the team with the hottest players, sez I. 😉 )
Anyway, getting back to music: A friend of mine recorded my performances, although you can't always see me all that well (you can see my friend Yvonne getting into the music which is cool). I'm leaving off my performance of Grandma's Hands, which was the funnest to perform, but I unfortunately rushed through it and pushed the beat a little too much. Oh well…
Here's my version of Tierney Sutton's version of Softly, as in the Morning Sunrise. I decided for this version because it let me use some of more classical-style head voice in certain parts.
I could say that the first part sounds fucked up on purpose because of some master plan, but actually my intonation was just way off. Opps…Here's what it was supposed to sound like.
I wasn't supposed to sing Well, You Needn't, but one singer couldn't be there, so I did an extra tune. It's definitely a fun one to sing.
I fucked up the text twice, but I tried to play it off like I'd done it "on purpose" so hopefully it worked. On listening/watching, I'd say I definitely have to work on my solos, but I suppose that's a neverending learning process. Btw, both my husband and daughters show up in this video as "the people running in front of the stage."
Lots o' fun. Looking forward to the next time I get a chance to perform.
xoxo
Rebeccah
p.s. Here's a later performance of Softly, As in the Morning Sunrise that I think I got better. Btw, the picture is one of those ridiculously overpriced pictures they take on roller coasters of my two daughters and my older daughter's best friend. It was so hilarious I had to buy it. By the looks on their faces, I'm pretty sure you can figure out which one of them is the speed demon. 😉