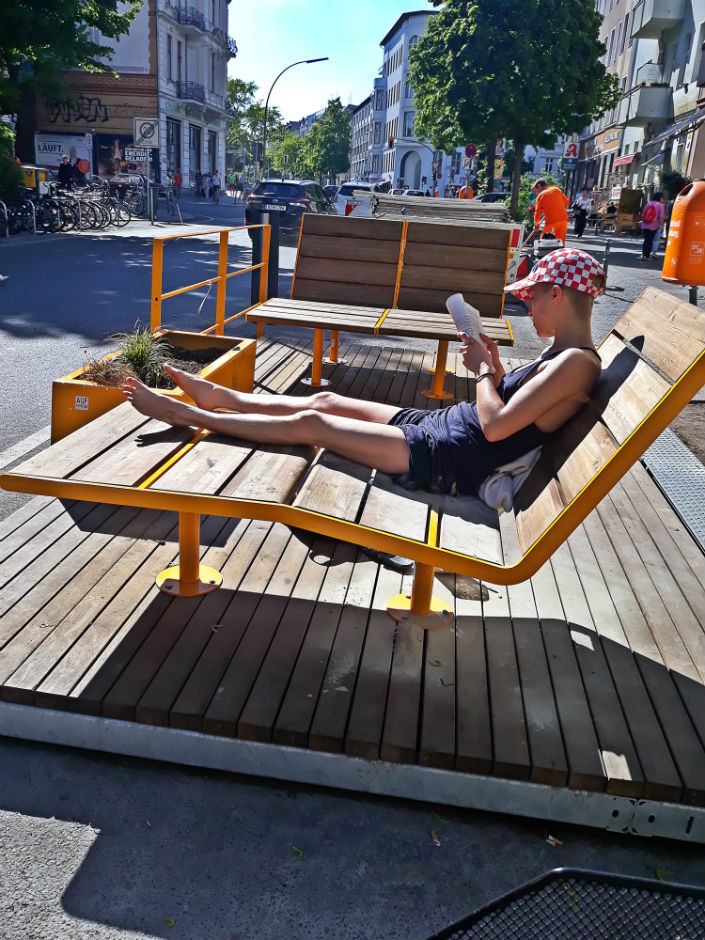 Dear Phantom Reader,
Do you live in a big city? If you do, is it a big city full of tourists? If it is, I'm sure you know something about virtual streets in trendy neighborhoods. Virtual streets aren't seemingly touristy places like, say, Brandenburg Gate, Hackescher Markt or Check Point Charlie, if we're talking about Berlin. But they're made for tourists just the same. Hey, they say. Isn't life great here? Wasn't your guidebook right on the nose? I live about a ten minute walk from one of these streets: Bergmannstrasse.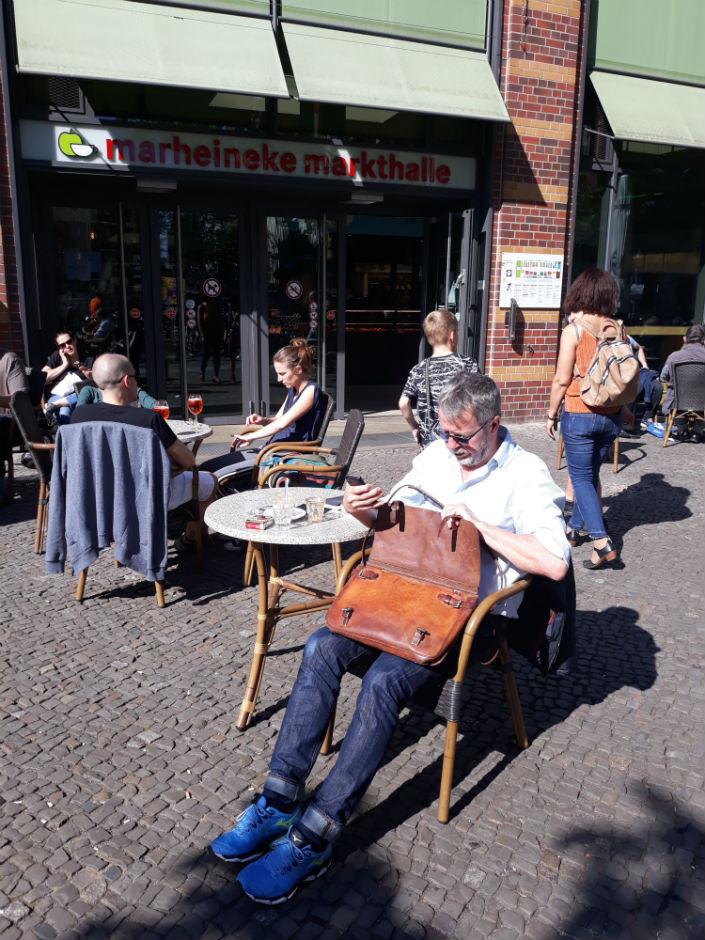 For most locals in Bergamannkiez, Bergmannstrasse starts and ends with the Marheinke Markthalle. This is the market hall where I buy most of my produce and some of my meat. When I take a "lunch break" from work (aka the desk in my office/bedroom) it's often at one of the food stands here. Greek, Vietnamese, Vegan, Spanish, there's a lot to choose from and, to be honest, none of it's that great, but it's cheap and it's quick and it's around the corner. And a trip out there makes me leave my apartment at least once in the afternoon, which is good. Oh the banes of working/writing at home.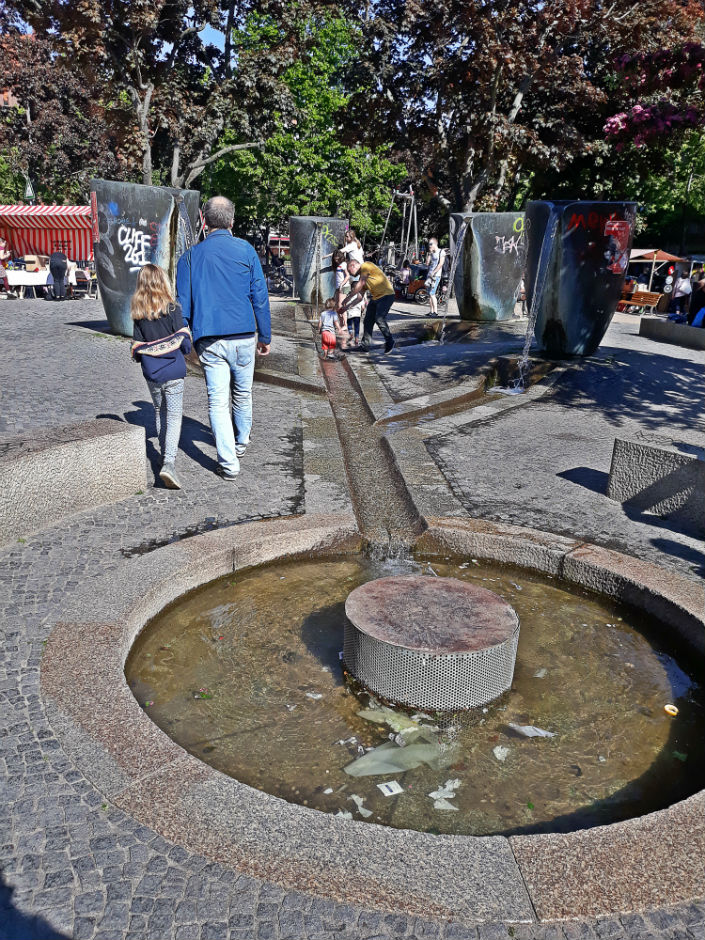 Side note: Here's the fountain behind the Markthalle where my daughters also used to play when they were little like the kid in the picture here. It's also proof that Germany does not have a germ-phobic culture like the US (the water is skanky, skanky, skanky), although don't get them started on drafts...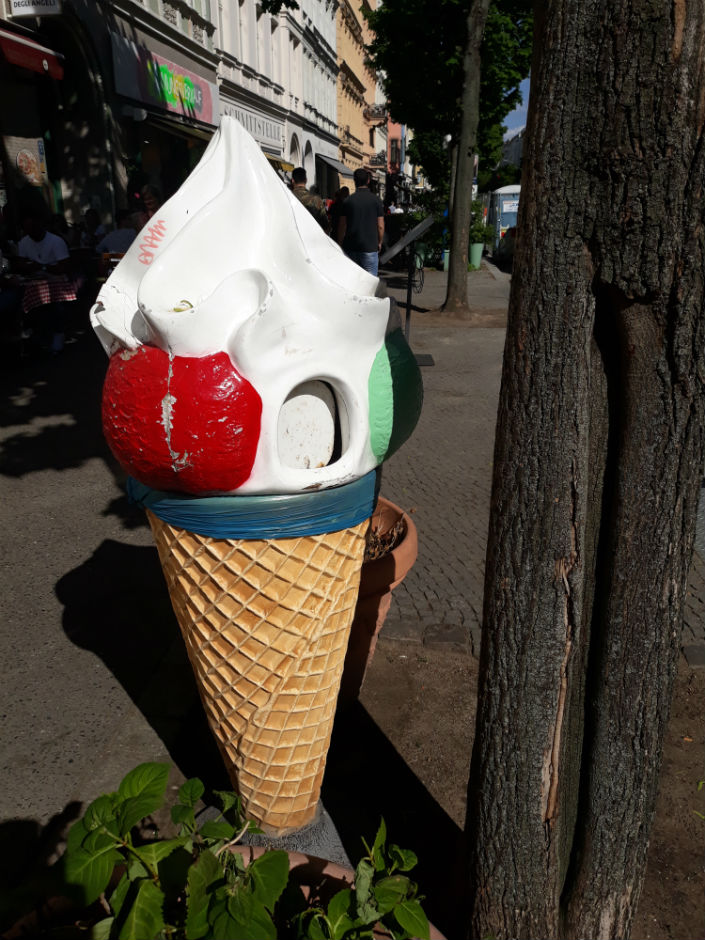 As for Bergmannstrasse itself, sure it's full of shops and restaurants and cafes, but they're all just a little off, a little fake, a little useless. They're not made for us, the locals. They're made for the Italians and Spaniards who book cheap flights on EasyJet and want a taste of left-wing-but-laid-back-and-yuppie Kreuzberg 61, oh so less gritty than it's punky step sister, Kreuzberg 36. It's for retirees from Rhode Island who spent a summer in Berlin when the Wall was still up and fell in love, for couples with kids from Düsseldorf spending a week in the capital, for love birds from the suburbs who want to get a feel for city life but are still too afraid of Neukölln. People flock to Bergrmannstrasse from around the world, but there are months I barely walk there, hell, maybe even years when I get no further than Bergmannstrasse Ecke Solmsstrasse. My neighborhood is on the side streets and down towards Südstern. In this, I know I'm not alone.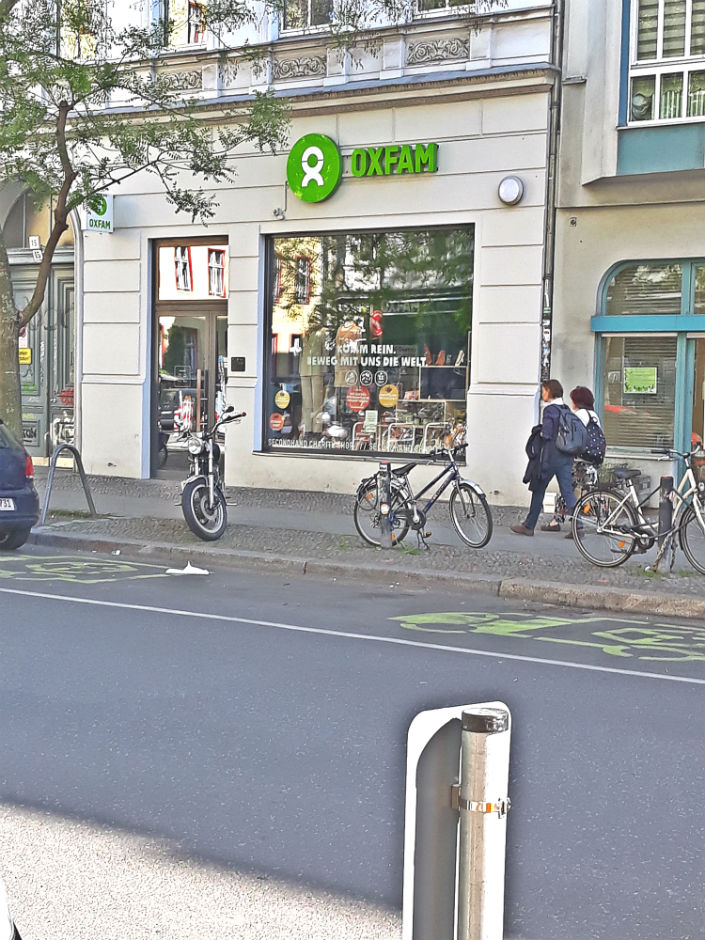 Side note: I have spent a little more time on Bergmannstrasse since they opened an Oxfam charity shop there a little less than a year ago. As I've mentioned on this blog before, I've long been a passionate thrifter, but this British style charity shop is something else entirely. Nothing is haphazard about this place, unlike, say, Goodwill aka the Kingdom of Chaos and Another Man's Treasures, and the shop doesn't have that musty oh-no-is-that-dried-urine? scent that thrift shops in California nearly always do (but oh, they are still so full of treasures for the patient seeker who doesn't have the slightest fear of bed bugs, schmed bugs!) Still, I've found some good finds there, and the place is full of locals (yes, the difference is always clear) so I guess Bergmannstrasse finally got a place us Kiezbewohner will tread.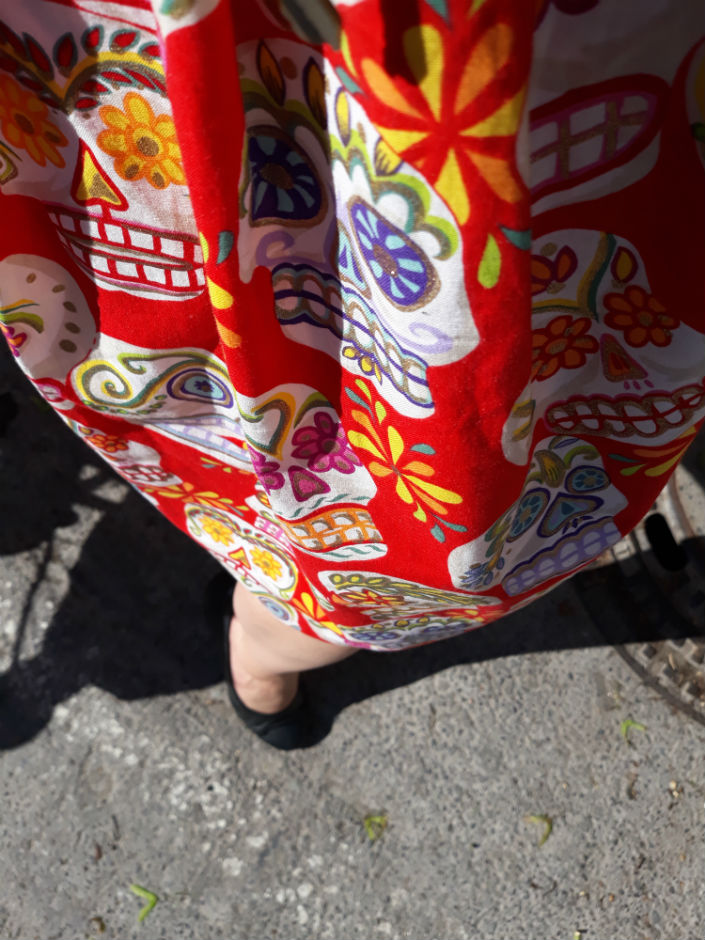 But today I did take a stroll down Bergmannstrasse, in my fabulous sugar skulls skirt from Marianna Deri nonetheless. In Berlin, fall and winter are inevitable while spring and summer are optional, and it's been a cold May so far. Two days ago I was still wearing my damn winter coat, and yes the Californian in me is still pissed about it even after all this time. I've heard from Germans many times that they wouldn't want to live in a place without seasons but I say, Seasons, who needs them? Give me sunshine and lots of it! Scarves? Those suckers are better off as fashion accessories, like in Cali, than life savers like they are in Berlin. I remember talking to my (Cali living) sister about infinity scarves at some point and she said "they are sooo ridiculous" and I said "me want!" I would wrap up my whole body in a damn scarf if I could here. Winter is so cold and so dark and so long. But when the sunshine and warmth does finally come, people take to the street and buy…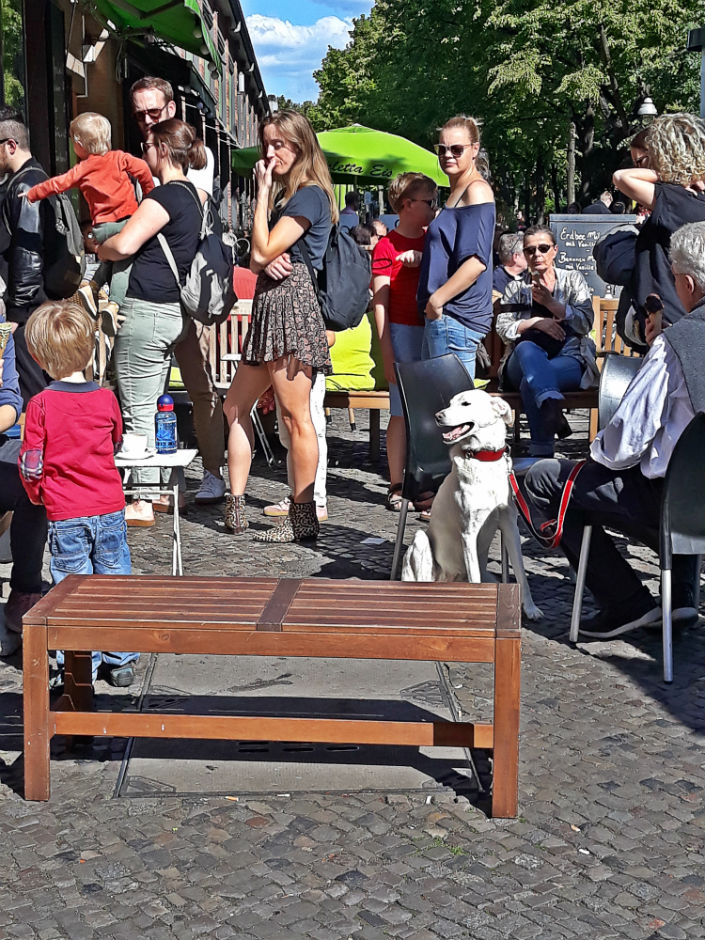 ice cream! So very much ice cream. Look how happy these people (and dog) are! (And this is the Markthalle, so probably some of them are locals). Spring is here at last! At least until it's gone again. When I first moved to Berlin in 1999 it was in an unseasonably warm April. But, unlike every other person in Berlin, I didn't spend hours outside, basking in the sun because, duh, the sun is just, like, in the sky right? Poor Californian me learned the hard way that this is not the case when the ice rain cometh a ten days later.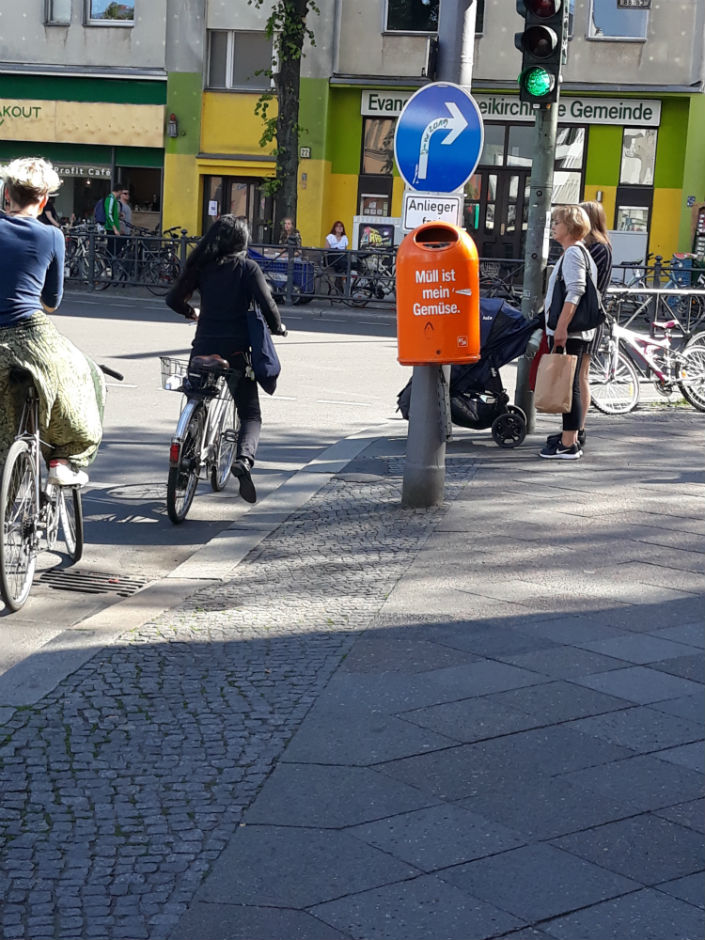 Side note: Did you know those BSR orange trash cans in Berlin are oh so witty? This one says, Trash is my vegetables…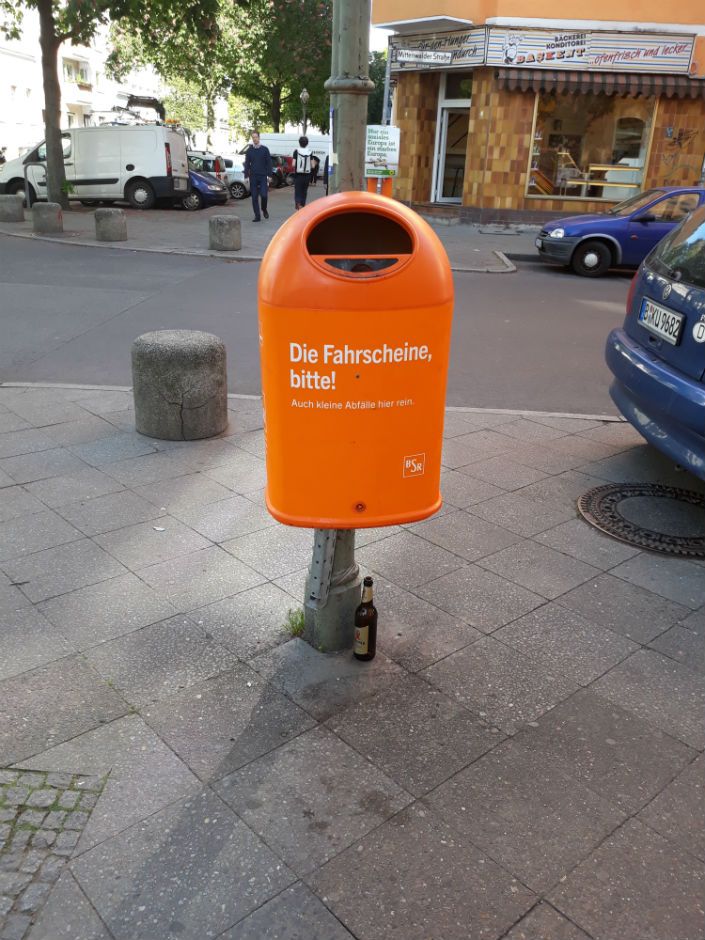 And this one says what the controllers say when they check our tickets on the U-Bahn (Die Fahrscheine, bitte! i.e. Tickets, please!). Underneath it says, Toss your little trash in here too. Got to love a city trash company whose trademark color is traffic cone orange that also cracks jokes as corny as your alcoholic uncle.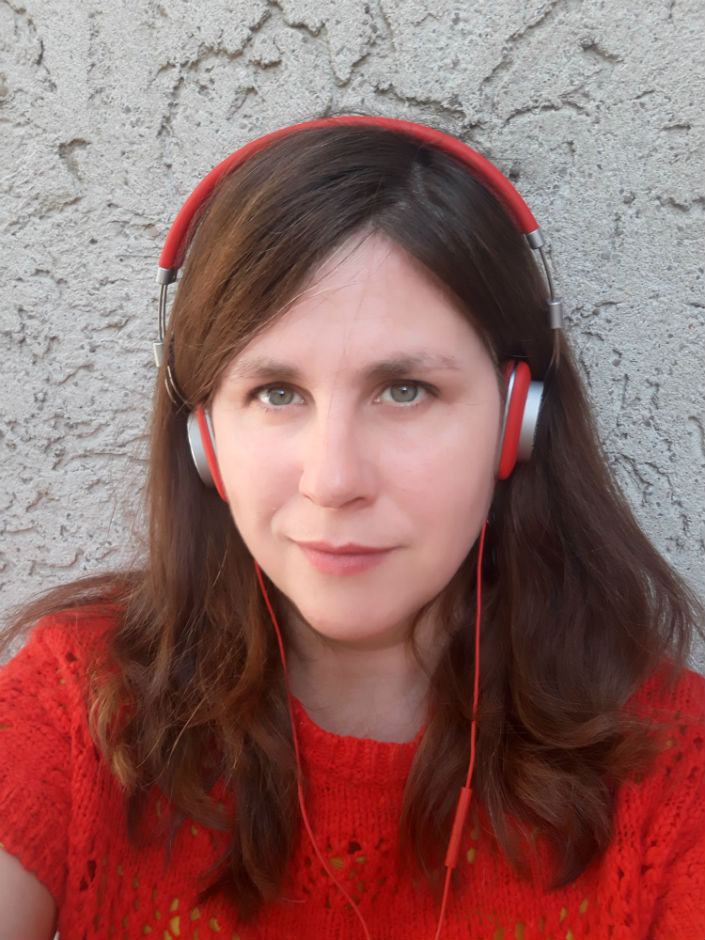 Yes, I enjoyed my impromptu bummel down Bergmannstrasse. Here's the tunes I listened to while I did.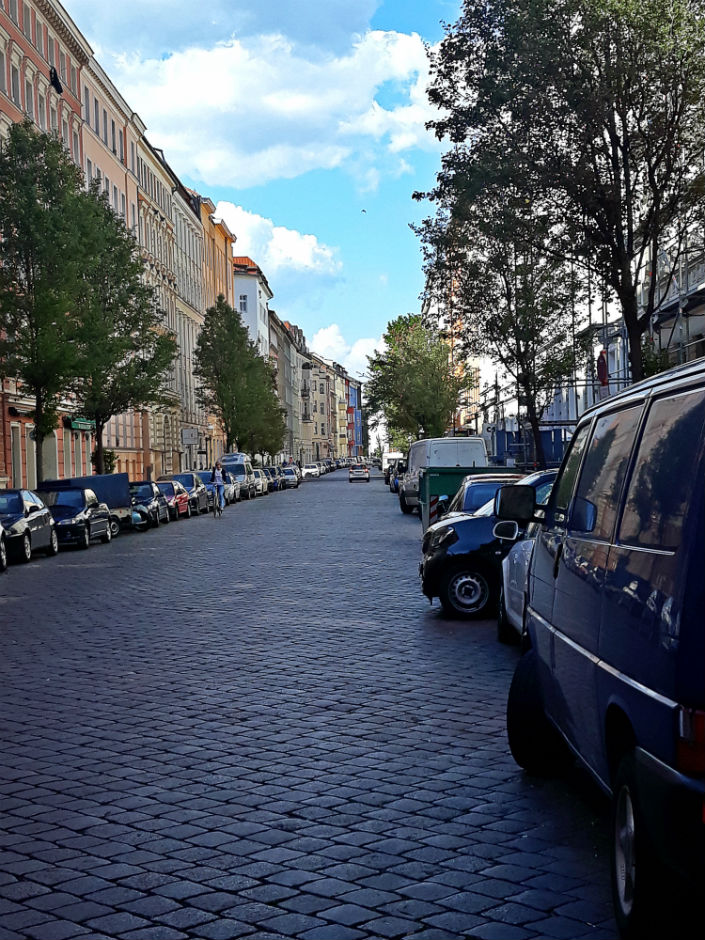 Then I headed back home…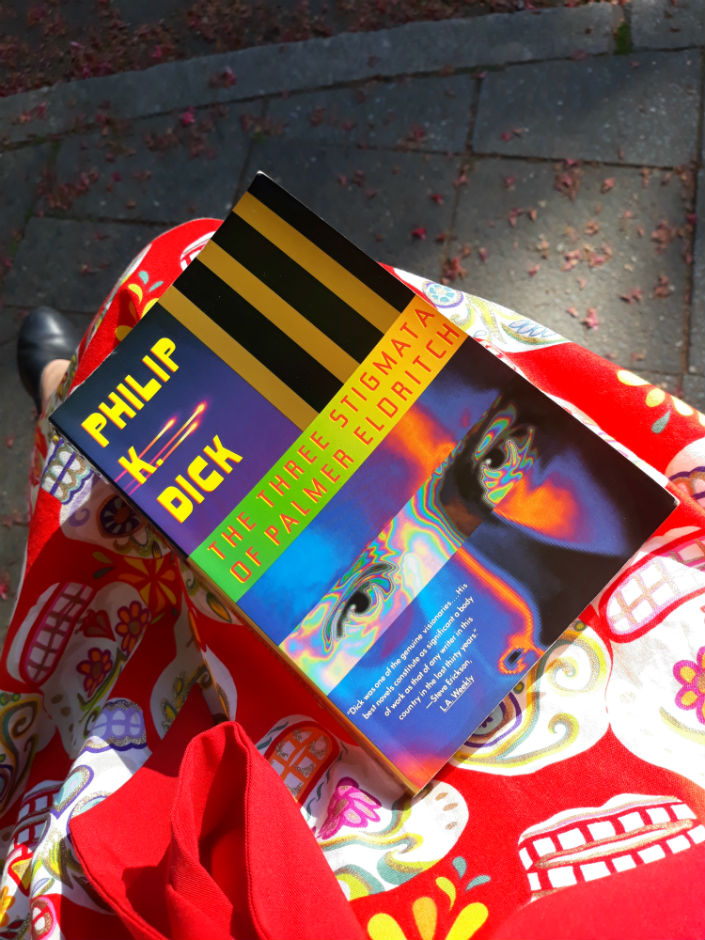 and did a little reading in the sun. Three cheers for spring!
XOXO
Rebeccah