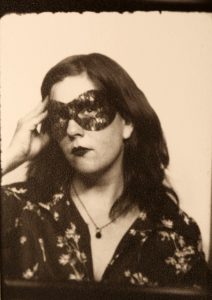 Rebeccah Dean is a writer and that person you call into a room when a spider needs to be gently removed.
(Spiders=friends)
She is from the San Francisco Bay Area, but has lived on Mars since 1999, and by Mars she means Berlin.
Fun fact: Rebeccah Dean absorbed her twin in-utero. Said twin now lives in Rebeccah's cerebellum and gets Rebeccah to write fiction, which she publishes under the name Rebeccah von Schlieffen.
Rebeccah von Schlieffen is the one who really calls the shots, but she mostly hides this from Rebeccah Dean because she is gracious that way. She does, however, let her choose out ice cream flavor combinations, because for this Rebeccah Dean decidedly has a knack.
More fun facts: Rebeccah Dean is a trained opera singer (this is the singer her voice teacher claimed she sounded like) who has since sung jazz. She is a practicing astrologer and sceptical occultist and magic tends to find its way into her work.
To read what Rebeccah has published, click here.
To find out what Rebeccah is reading, click here.
To find out out about her background in astrology and tarot, click here.
To buy her a cup of coffee or a new book, click here.
Thank you and God bless us, every one!